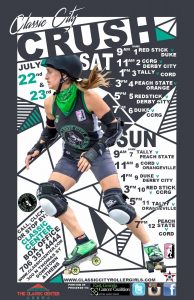 Get an inside look at CCRG's bout week mentality with the Flagpole's awesome write-up about the upcoming Classic City Crush! We love the hometown support.
Make sure to be at the Classic Center on July 22 and 23, as your Classic City Rollergirls host seven teams from across North America for the second annual Classic City Crush! The action starts at 9am on Saturday July 22 and we don't stop until Sunday night. Join us at the Classic Center for a full weekend of waging war on wheels!
See our previous Crush post or our Facebook event for more details.