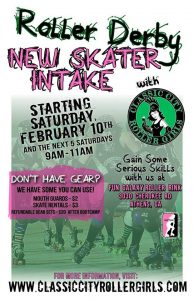 You've been to a roller derby bout and thought, "I can do that." You're looking for a fun, new sport that puts you hip to hip with the coolest girls in town. You've always wanted to participate in a full contact sport and unleash your pent up aggression. Sounds like you're interested in waging war on wheels: time to become a rollergirl!
CCRG hosts several bootcamps each year to welcome new skaters to the league. Bootcamps are held at our home rink, Fun Galaxy, located at 3030 Cherokee Road, Athens, Georgia. Dates will be posted on our News and Press page under "Bootcamps."
We now run our bootcamps as a FREE six-week program. Bootcamp spans six Saturday practices, held from 9-11am, dedicated to basic skating skills. Saturday's drills are then repeated during our Monday practices, from 7-9pm. If you miss the first week, don't worry – you're welcome to show up the next week!
We provide:
knee pads, elbow pads, wrist guards, helmet ($20 refundable deposit)
skates ($3 rental)
mouth guards ($2 to buy)
Please bring a water bottle and wear athletic clothing. Most of us wear tights or leggings, shorts, and T-shirts.
If you have any questions, please email our Recruitment Head of Skate (recruitment@classiccityrollergirls.com) or message us on Facebook and we'll be sure to get back to you.
We also have information available on our web forum, where you can talk to other members of the league and introduce yourself before coming to bootcamp!
In the meantime, brush up on your skating skills – public skating times are held throughout the week at Fun Galaxy.