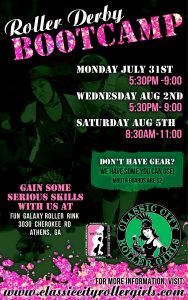 CCRG's next new skater intake bootcamp is right around the corner!
Dates and times
Monday, July 31 (5:30pm-9:00pm)
Wednesday, August 2 (5:30pm-9:00pm)
Saturday, August 5 (8:30am-11:00am)
All sessions will be held at CCRG's practice rink, Fun Galaxy, located at 3030 Cherokee Road, Athens, GA.
Bring your water bottle and wear comfortable athletic clothes – we'll provide the rest!
You can borrow gear – knee pads, elbow pads, wrist guards, and helmet – for free for the day. Speed skates are available for rental at a cost of $3 per session, and mouth guards may be purchased at boot camp for $2. If you already have any of these items, we encourage you to bring your own!
In the meantime, be sure to come to the Classic City Crush on July 22-23. You can also brush up on your skills and meet some roller girls at Fun Galaxy's open skate hours, held throughout the week.
Any questions? Check out our Become a Rollergirl page for more information. We can't wait to see you!