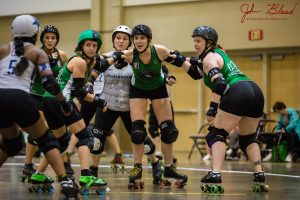 Back in May, the Classic City All-Stars took on the Chattanooga All-Stars in the final game of the Low Down Throw Down tournament, a fierce and physical bout that ended in a 172-124 victory for Classic City.
The two teams met again on August 19, this time on Chattanooga's home track. The home team hoped to take the win as vengence for their Low Down Throw Down loss, while CCRG looked to keep this season's losses to only one game. Both teams hit the track with serious determination and hard-hitting defense.
The first half ended with Chattanooga on top, 67-58, but before long, CCRG regained the lead and never looked back. Heroic efforts from agile jammers and immovable blockers earned a 165-118 victory for Classic City. Crazy Cait Lady and Delia Derbyfire were named MVP Jammer and Blocker, respectively, for CCRG. With this final win, CCRG finishes the season with an 8-1 record.
Check out the Flagpole's write-up for more derby details!
Photo credit: John M. Blood