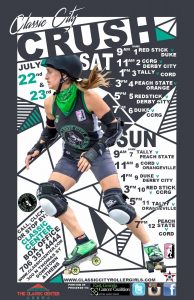 On July 22 and 23, your Classic City Rollergirls will host seven teams from across North America for the second annual Classic City Crush! The action starts at 9am on Saturday July 22 and we don't stop until Sunday night. Join us at the Classic Center for a full weekend of waging war on wheels!
Participating teams
Classic City Rollergirls – Athens, GA
Duke City Roller Derby – Albuquerque, NM
Peach State Roller Derby – Marietta, GA
Central Ohio Roller Derby – Mt. Vernon, OH
Derby City Rollergirls – Louisville, KY
Tallahassee RollerGirls – Tallahassee, FL
Red Stick Roller Derby – Baton Rouge, LA
Orangeville Roller Girls – Orangeville, ON, Canada
Schedule
Saturday, July 22
9am: Game 1 – Red Stick vs Duke
11am: Game 2 – CCRG vs Derby
1pm: Game 3 – Tally vs CORD
3pm: Game 4 – Peach State vs Orangeville
5pm: Game 5 – Red Stick vs Derby
7pm: Game 6 – Duke vs CCRG
Sunday, July 23
9am: Game 7 – Tally vs Peach State
11am: Game 8 – CORD vs Orangeville
1pm: Game 9 – Duke vs Derby
3pm: Game 10 – Red Stick vs CCRG
5pm: Game 11 – Tally vs Orangeville
7pm: Game 12 – Peach State vs CORD
Tickets are $12 for one-day access and $20 for two-day access. Pre-sale tickets are not available, but who needs that when you're paying $2 OR LESS per game!
Check out the Facebook event.