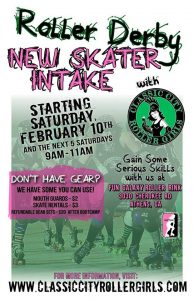 You've been to a roller derby bout and thought, "I can do that." You're looking for a fun, new sport that puts you hip to hip with the coolest girls in town. You've always wanted to participate in a full contact sport and unleash your pent up aggression. Sounds like you're interested in waging war on wheels: time to become a rollergirl! Join us for our FREE six-week bootcamp program on Saturday mornings and Monday nights!
Transfer skaters, we love you too!
Hate following the rules but love to enforce them? We are looking for referees and non-skating officials. Whether you want to be on skates or off, we have a place for you.
Maybe you love our league, but you're not so sure about jumping in as a rollergirl or referee. Never fear – join us as a volunteer!