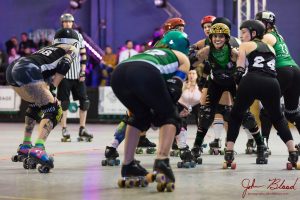 CCRG skaters met friends-turned-foes on the track for the 2018 Green vs. Black season opener. Fans packed the Athens Arena for an action-packed bout featuring Team Green, led by CCRG All Stars captain Cirque du Slay, and Team Black, led by All Stars co-captain Crazy Cait Lady.
It was a tight bout from first whistle to last, neither of the two evenly-matched team establishing a truly dominant lead. It's hard to really blow your opponents away when they already know your tricks from practice! Finally, though, the intense back-and-forth ended with Team Black triumphant, 189-168.
Team Black's MVPs were James Blonde #007 (blocker) and MoshYa Brady #138 (jammer). Team Green's MVPs were Dr. Evil #48 (blocker) and Dani Doom #77 (jammer).
Check out Flagpole and The Red & Black for more great pictures!
Photo credit to John M. Blood.