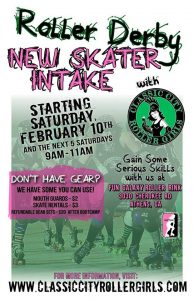 Fresh off an electrifying season opener, CCRG's skaters are ready to teach YOU how to be a bad-ass derby player!
The first session is Saturday February 10, 9-11am, kicking off our new 6-week training program. Bootcamps are held at our home rink, Fun Galaxy, located at 3030 Cherokee Road, Athens, Georgia.
If you can't make the first Saturday, feel free to come the next week! After February 10, you will be invited to attend every Saturday morning practice (9-11am every week), as well as our Monday night practices from 7-9pm.
We can provide everything you need to try it out, no commitment required. We'll have mouthguards for purchase for $2, full gear you can borrow for a refundable $20 deposit, and skates you can rent from the rink for $3.
Even if you aren't sure you want to hit people on wheels, we encourage you to come, learn skating basics, and meet the league. We are always looking for more skating referees, non-skating officials, and volunteers!