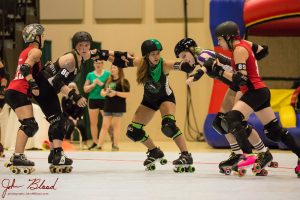 The Classic City All-Stars wrapped up an intense bout against the Red Stick All-Stars with a 195-167 victory. The win put the team on Flat Track Stats' "biggest upsets" list for the weekend. Co-captains Crazy Cait Lady and Cirque du Slay took the MVP Jammer and Blocker awards, respectively. Special shout-out to CCRG's Viva la Evolución for a masterful performance in his first sanctioned bout at head referee!
The Bad News Bs also triumphed over the Red Stick Capital Defenders, fighting til the very last jam for a score of 194-182. New Year's Slay was awarded MVP Jammer and Delia Derbyfire was named MVP Blocker.
Thank you to Red Stick for travelling all the way to Athens from Baton Rouge, LA – we can't wait to see you again at the Classic City Crush on July 22-23! Thank you also to all the referees and non-skating officials who made this weekend possible!
Photo credit to John M. Blood.