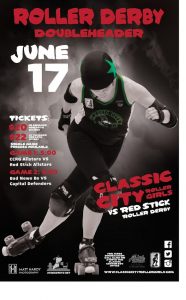 Fresh off their amazing wins at Low Down Throw Down in Augusta and a victory over the Atlanta Jukes of Hazzard, your Classic City Roller Girls are gearing up for an impressive season!
Come see your hometown team in action on Saturday June 17th at the Akins Arena in the Classic Center as CCRG clashes with Red Stick Roller Derby, all the way from Baton Rouge. The first bout of this awesome doubleheader will feature the CCRG All Stars vs. the Red Stick All Stars at 5 pm (doors open at 4pm), and the second bout will showcase the Bad News Bs vs. the Red Stick Capital Defenders at 7pm (doors open at 6:30pm). Come early to get your CCRG swag, beer, and nachos!
Tickets are available online at https://tinyurl.com/llykfgy. Kids 5 and under are FREE!
You can also call, click, or stop by the Classic Center box office to pre-purchase tickets:
Purchase tickets online
(706) 357-4444
300 N Thomas Street, downtown Athens