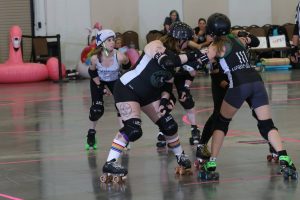 A weekend of teamwork, sweat, and bruises ended in triumph for CCRG as captains Crazy Cait Lady and Cirque du Slay accepted the Low Down Throw Down first place trophy.
CCRG travelled to Augusta, GA on May 5-7 for the Soul City Siren's Low Down Throw Down tournament. The team arrived in high spirits, facing the Muscogee Roller Girls on Friday and coming out with a 229-97 win. We were back in action Saturday afternoon, winning a tight bout against the Appalachian Rollergirls by 150-137 to secure a spot in the championship game on Sunday evening. The team hit the track with fire and determination the next evening, fighting to a 172-124 victory over the Chattanooga Rollergirls. After the game, Crazy Cait Lady was named the tournament MVP and the whole team enjoyed a short dance party with the Gold Coast Derby Grrls.
Huge thank you to the Soul City Sirens for hosting this tournament and to the other amazing teams that came, and a special shoutout to all the officials and volunteers who made the weekend possible! We had a great time and we can't wait for next year.
Photo credit to Derby Pics by Phil.