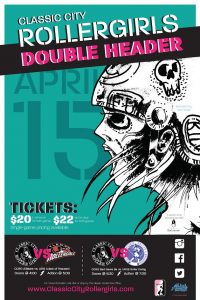 Are you ready for something new? Roller derby is the fastest growing sport in America and you can check out your hometown team, the Classic City Roller Girls, on Saturday, April 15th at the Classic Center!
This doubleheader will start at 5pm with the Classic City All Stars challenging the Atlanta Jukes of Hazzard. At 7pm, the Classic City Bad News B's will face the Upstate Roller Girl Evolution.
Hours of family fun and action can be yours for only $20 a ticket, with a family 4 pack tickets for $60. Kids five and under are FREE. Group pricing and single game tickets are also available.
Call, click, or stop by the Classic Center box office to pre-purchase your tickets today!
purchase tickets online
(706) 357-4444
300 N Thomas Street, downtown Athens